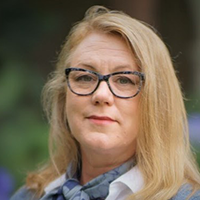 Over the course of a two-decade career in public higher education, Pamela Ralston has been dedicated to the powerful transformation that community colleges provide students, faculty, and the communities we serve. She is committed to working with faculty, staff, and administrators to improve student success and student equity through the creation and support of strong, innovative programs and a rewarding working environment. Dr. Ralston has served as the Interim President at Los Medanos College, President at Santiago Canyon College, and Executive Vice President of Educational Programs at Santa Barbara City College, where she led the academic and student services programs.
Dr. Ralston also served as Vice President for Student Learning at College of the Desert, in Palm Desert, CA. Prior to that, she enjoyed eight years as Dean of Arts, Humanities, and Social Sciences at Cuesta College in San Luis Obispo. Before moving into administration, Dr. Ralston was faculty member and division chair of English and Written Communications at Tacoma Community College, where she taught composition, American Ethnic Literature and developmental studies in writing and reading. Before joining TCC, she served as lecturer at the University of Washington in American Ethnic Studies.
Pamela Ralston has her bachelor's degree in English from the University of Oregon and her Master of Arts and doctoral degrees from the University of Washington in Comparative Literature, where she taught as a graduate student in the Comparative Literature, English and American Ethnic Studies Departments. She has earned excellence in teaching awards from both Tacoma Community College and the University of Washington, and she was honored with a Fulbright fellowship for doctoral research at the Royal Library and University of Copenhagen in Denmark.
A passionate advocate for diversity, equity, and inclusion in education, Pamela Ralston has worked to create a welcoming and inclusive environment for all students, with special attention to the strengths that their cultural backgrounds and ethnic identities bring to their college experiences. Over the course of her career, Dr. Ralston has participated in and led numerous, successful change efforts, working to increase the access and achievement of first-generation students of color by working to make colleges ready for all students. She has led curricular redesign, student services program innovation, strategic enrollment, new facilities design, and fund-raising campaigns and grant applications. Deeply invested in the connections between Los Medanos College and the cities it serves, Dr. Ralston is committed to civic engagement. She seeks to deepen relationships and partnerships with school districts, non-profit organizations, civic organizations, and industry across East Contra Costa County.
Pamela lives with her wife, Chris, an attorney, in Pittsburg and Morro Bay, CA. They're fond of walks along central coast beaches, reading, cooking and are active in their church and community organizations.