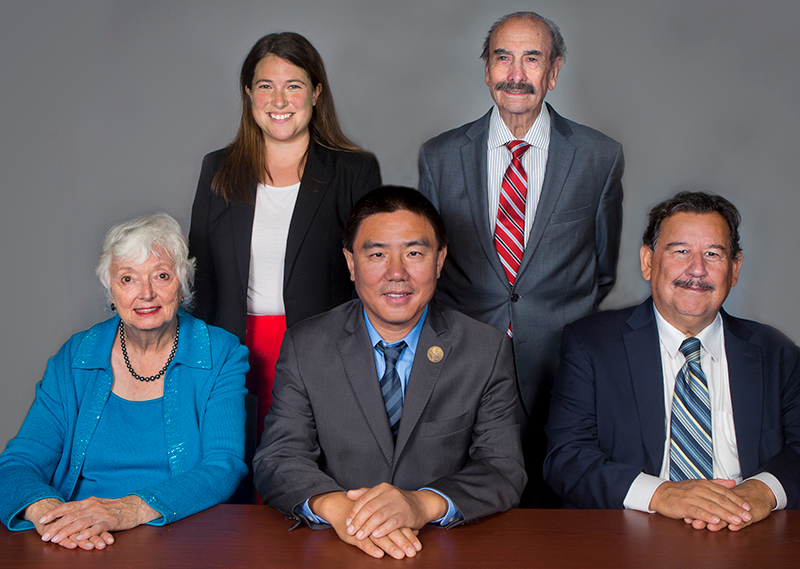 The Governing Board is the official elected body of the College District. Its primary role is to set the overall operating policies of the College District. The Chancellor, who is appointed by the Governing Board, carries out these policies. The five Governing Board members are elected for four year terms by registered voters in geographical divisions. There is also one student member selected by the student body, who serves for one year. The student member has an advisory vote.
Meeting Agendas and Minutes
The Governing Board meets on the second Wednesday of the month. Most meetings begin with a closed session at 5:00 p.m., followed by open (public) session at 6:00 p.m. Meetings held in February, April, July, September and November are designated as study sessions and address one of 4CD's strategic directions.
Governing Board agendas dated February 11, 1998, to present are available for viewing on this site. Governing Board minutes, a reflection of actions taken at each meeting, are also available on this site and date from the first Board meeting on January 24, 1949. Please note the quality of scanned minutes from the District's earlier years is not optimal, due to original typed documents being faded, taped and/or torn.
The Governing Board agenda is prepared by the Chancellor's office in consultation with the Governing Board. The agenda is available for public viewing three business days before the meeting. You may find a copy of the agenda posted outside the District Office at 500 Court Street, Martinez, California, 94553. You may also view the Governing Board Agenda online. Requests to appear on the agenda shall be in accordance with Board Policy 1024.
Governing Board meetings are currently being conducted remotely via Zoom, and begin with a call to order by the Governing Board President. A period for public comments on items not on the agenda will be called by the Governing Board President. You can participate by contacting the Executive Coordinator and submitting a Public Comment card. Once recognized by the Governing Board President, state your name and address and make your statement. If you would like to speak on an agendized item, please wait until that item is presented and the Governing Board President calls for public comments. Public comment is followed by consent, general agenda items and nonconsent action items.
Governing Board meetings are recorded for minute purposes. Video recordings of these meeting from March 2020 to present are available at: www.4cd.edu/gb/videos.html.
If you would like to contact a Governing Board member, please email them or call the Executive Coordinator at (925) 229-6821.
Governing Board Members

Name

Ward

Term Expires

2

December 13, 2024

5

December 13, 2024

1

December 9, 2022

3

December 9, 2022

4

December 9, 2022

 

May 31, 2023
Dr. Judy E. Walters, President

Representing Ward 2

Dr. Judy E. Walters grew up in southeastern Idaho and has spent over 30 years working in the California Community Colleges. Dr. Walters' involvement with the California Community Colleges grew from a desire to advance social justice goals regardless of age, race, religion, sexual orientation, socio-economic status, or physical abilities.

She began her career as a faculty member in San Diego, and more recently served as President of Diablo Valley College in Pleasant Hill and at Berkeley City College. In addition, Dr. Walters was a member of the California Accreditation Commission and served as Vice Chancellor of Policy Analysis at the State Chancellor's Office. Dr. Walters has been a leader facing challenging issues, including lean budgets, social change, and collective bargaining. She has worked with respect for the contributions of others.

Dr. Walters is a certified Appreciative Inquiry facilitator and is a collaborative problem-solver who has the courage and experience to propose solutions during challenging times. She has worked with experienced educational leaders, and will support the colleges in their work with students to reach their goals of completion and transfer by ensuring they have access to classes and services needed to attain their educational goals, especially during the global pandemic.
Fernando Sandoval, Vice President

Representing Ward 5

Fernando Sandoval represents Ward 5, and is committed to educational excellence, diversity and inclusion. Mr. Sandoval once lived in a labor camp on the Sacramento River and taught himself English as a second language. He was later raised in East County. As a military veteran, Mr. Sandoval understands the value of education.

Mr. Sandoval's experience includes holding leadership positions in STEM, with such manufacturing, retail and finance companies as Lawrence Livermore Laboratory, General Motors, Hughes Aircraft and Sperry Univac. Business. While working for HSBC Bank and Capital Markets Corporation, Mr. Sandoval gained management experience in regulatory reporting and finance.

Within the community, Mr. Sandoval is a respected educational presenter, author, community college mentor, educational conference facilitator and serves on the Districtwide Equal Employment Opportunity Advisory Council, as well as Chair of the Pittsburg Unified School District Bond Oversight Committee. He was recently awarded the 2020 Cesar Chavez Award for Exemplary Community Service.
John E. Márquez, Secretary

Representing Ward 1

Mr. Márquez attended Contra Costa College (CCC) and San Francisco State University where he obtained his associate of arts degree and his bachelor of arts degree, respectively. He attended University of Hastings College of Law for two years and attended graduate courses at California State University, Hayward (now known as California State University East Bay) and San Jose State University, earning a California Community College Teaching credential qualifying him to teach Spanish, Psychology, and Ethnic Studies. As a CCC student in 1970, he co-founded the La Raza Studies Department. Mr. Márquez has worked as a Human Relations Specialist for the City of Richmond and as Deputy Labor Commissioner and Labor Standards Investigator with the Office of State Labor Commissioner, Department of Industrial Relations. He is also a Certified Spanish/English Interpreter and has his own business: Márquez & Associates.

Mr. Márquez was first appointed to the Richmond City Council in 1985, and has served numerous terms on the Council. He has been a member of the Contra Costa Democratic Central Committee and was a State Delegate to the California Democratic Central Committee. Mr. Márquez and his wife have two sons, three daughters, and 12 grandchildren.
Rebecca Barrett

Representing Ward 3

Rebecca Barrett grew up in Concord and is the proud product of local public schools and the District. She attended Diablo Valley College (DVC) and transferred to UCLA, where she earned a Bachelor of Arts degree in Political Science.

After graduation, Rebecca worked in the California Department of Education as the Special Assistant to the State Superintendent of Public Instruction. She soon rose to be Principal Advisor to the State Superintendent, serving on the Department of Education's Senior Leadership team. Rebecca was involved in some of the largest education policy changes in California's history. She also led the team that implemented the "Gold Ribbon Schools" awards system that rewards schools for high test scores, and more importantly serves at-risk students, by engaging the community, and implementing quality art and civics programs.

Rebecca now mentors DVC students and she cultivates leadership among various youth groups. Rebecca also works as a consultant, advising individuals and organizations on how to get involved in their community.
Andy Li

Representing Ward 4

Andy Li is the owner of a healthcare information technology consulting firm that provides electronic medical record (EMR) system consulting services to clients nationwide. Born and raised in China, Andy earned his Bachelor of Arts degree in Chemistry from Nankai University. Upon immigrating to the U.S., Andy completed his Master's degree in Computer Science from University of Wisconsin, Madison.

Andy is very active in the community and participates in civic affairs. In 2015, Andy founded the Tri-Valley Chapter of the Asian Pacific Islander American Public Affairs Association (APAPA) and served as Chapter President through 2017. His hard work and commitment to civic duty led to his promotion in 2018 to President of APAPA's Bay Area Region. Andy's experience also includes serving as the PTA Committee Chair at Hidden Hills Elementary School and serving on the School Site Council at Bella Vista Elementary School, both in San Ramon. Andy also participates in other non-profit organizations, including Rotary, and Leadership San Ramon. Further, Andy was a member of the City of San Ramon's Economic Development Advisory Committee; the San Ramon Valley Unified School District Parcel Tax Oversight Committee; and Contra Costa County Managed Care Commission.

Andy is passionate about education and emphasizes students' success with reduced stress. As the first Chinese American to serve on the Contra Costa Community College District Governing Board, Andy understands the importance of diversity and will strive to represent everyone within Ward 4's growing, multi-cultural community. Andy lives in San Ramon with his wife and two children.
Surpreet Kaur, Student Trustee

Surpreet Kaur is currently enrolled at Contra Costa College as a Middle College High School student, and is majoring in Computer Science. Surpreet is a first-generation student and daughter of an immigrant. She spends her personal time indulging in adventurous activities, such as rock-climbing, hiking, bungee jumping, and more.

Surpreet believes that students are the cornerstone of the educational system. She is committed to ensuring that no student is ever excluded because of their appearance, race, gender, sexuality, or any other factor. She values equitable learning spaces for all, and embraces ethnic, linguistic and gender representation across the colleges. Surpreet's empathy and conviction allow her to ensure all student voices are heard and uplifted. Lastly, her desire to make a difference extends to the colleges and their mission, and it is her hope that this passion will make positive and lasting impressions both personally and academically.
Need More Help?
Do you have other questions about the Governing Board? You can write to: Governing Board, Contra Costa Community College District, 500 Court Street, Martinez, CA 94553. The phone number of the Governing Board office is (925) 229-6821.